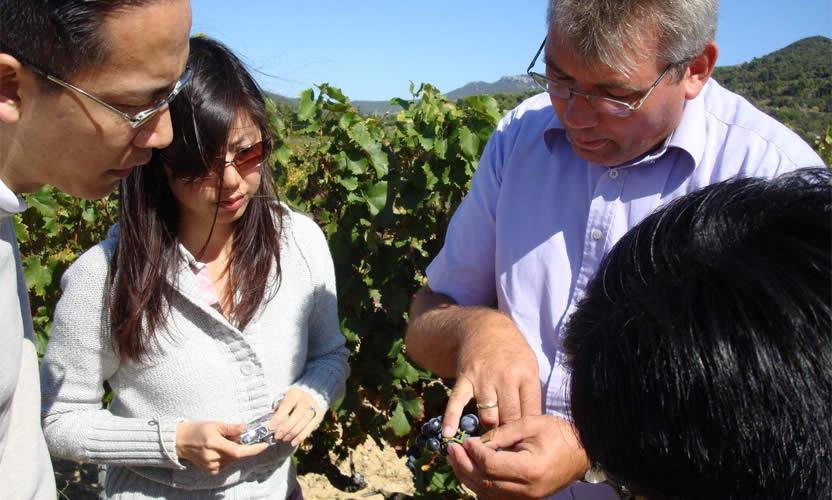 Your guide Mike RIJKEN
Or should we say Mike's Wine Safari.
Because this concept has been within Mike Rijken ever since he began working in France. After finishing hotel school in Bavaria, he puts his first footsteps in 1983 in Paris. There, he learned the language, and took courses at the Wine Academy of Steven Spurrier. Briefly, he returned to Holland and worked in a one-star Michelin retaurant as Chef de Partie.
In 1984, he worked in the heart of Burgundy (Beaune). His multiple talents served well in the kitchen and restaurants of a chain of Brasseries. In Burgundy, he led wine tours from the Hotel Le Cep (in Beaune), into Puligny-Montrachet and Pommard.
Although he worked for hotels and restaurants in Holland, and helped to manage a wine importation business, his heart has remained in France, serving as a link and spiritual guide between the French, and visitors interested in the best of wine and gastronomy.
After meeting his Dutch wife, Vivian, in Burgundy, they moved to the south of France. For 13 years, Mike was the hospitality / pr manager for the prestigious Château de Beaucastel in Châteauneuf-du-Pape. The family Perrin sent him around Europe and the USA - whenever a good word was needed. With his background as a chef ; superb tasting skill ; and fluency in four languages, he can immediately explain why a wine may complement certain food ; what influences the wine ; how they may develop etc.. .
Most important, his personality and experience make his wine discourses a fun and rewarding pleasure for beginners and experts alike. He created the company Wine Safari to share his passion, and to facilitate people discovering more about the Rhône region - especially small, quality properties and lesser known regions. Educational, Fun, and Surprisingly simple to have a Sensational experience, with knowledge that really matters. It will make you want to return to Provence again and again.